October 17, 1909 – The Northern Baptist State Convention arranged for the Chapel Car "Herald of Hope" to be placed beside Romine Street. And on October 24, 1909 Rev. and Mrs. Sparks, Home Missionaries, began Sunday School in the chapel car with 43 members enrolled.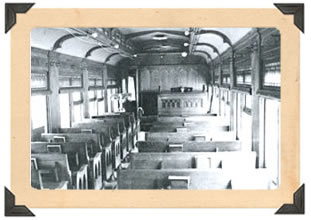 February 6, 1952 – The name of the church is changed from Herald of Hope Church to the First Southern Baptist Church of Urbana.
January 27, 1957 – The church purchased eight city lots between Pennsylvania and Michigan Avenues on Anderson Street.
October 1, 1957 – The church name was officially changed to Pennsylvania Avenue Baptist Church.
August 7 – 9, 2009 – PABC Celebrated its 100th Anniversary with a special Centennial Celebration. Many current and past members met for a wonderful weekend of services and fellowship. The Mayor of Urbana, Laurel Lunt Prussing, issued a proclamation naming 8/7 – 8/9/09 as Pennsylvania Avenue Baptist Church Centennial Observation Days.