Pennsylvania Avenue
Baptist Church
600 E. Pennsylvania Ave.
Urbana, IL 61801
(217) 367-5924

or just catch the bus
MTD 50 GREEN
We welcome all visitors
The Preschool Committee has been busy renovating and updating our preschool area to meet the growing needs of this vital ministry. Preschool care is provided for Sunday and Wednesday services at PABC.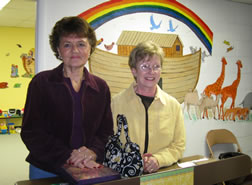 OUR VISION: To see children"…grow in wisdom and stature and in favor with God. . ."
OUR MISSION: To nurture and disciple children, in partnership with families, so that they might grow into a relationship with Jesus Christ.
OUR VALUES:
Each child is an individual created by God and entrusted to our care.
Our church and our ministry are Christ-centered.
Learning and teaching are conducted in a safe and healthy environment.
Bible teaching is conducted creatively.
Learning about God is fun, exciting, and purposeful.